The 10th International Conference from Scientific Computing to Computational Engineering(10th IC-SCCE 2022) will take place at the TITANIA Hotel. TITANIA Hotel is amongst the best equipped conference hotels in Athens. The Europa conference center of the hotel offers several multi-purpose rooms, state-of-the-art audio-visual and telecommunication equipment. The interior spaces have been especially designed, so as to meet the needs of contemporary demands in the corporate world, with abundant natural light and ample room, comfortable furniture and warm colors. The professional and experienced staff will always be at your disposal every step of the way, ensuring that your meeting is held with absolute success and exceeds your initial expectations.
For more information, please visit the TITANIA HOTEL website
Athens provides a wide variety of accommodation ranging from economical hotels to five-star international hotels. Every participant has to book his own room at a Hotel of his choice.
From the Athens International Airport (El. Venizelos) to the Conference venue The construction of the Athens International Airport, Eleftherios Venizelos, started in 1997. In May 2001 it was inaugurated, at the being the second largest airport in Europe and 5th in the world. It is a new and highly advanced airport located 27 km south east of Athens and can be rapidly accessed via a six-lane motorway and public transport - express airport bus on a 24 h basis - from Athens center and the port of Piraeus. Parking facilities in the new Athens International Airport have been designed to meet your needs both in terms of quality as well as price.
Athens International Airport – "Eleftherios Venizelos"- Titania Hotel (36km)
1. by METRO
By Metro ( map: https://www.ametro.gr/wp-content/uploads/2018/09/AM_Sxedio_Anaptiksis_Sept18_en-2.pdf= )

take the Blue Line (Line 3 - direction 'Egaleo') and get off at Syntagma station

From Syntagma station you can (a) either take the Red Metro Line (Line 2 direction 'Anthoupoli') and get off at Panepistimiou station (Exit: National Library) and from Panepistimiou station, walk to Titania Hotel or (b) walk from Syntagma Square to Titania Hotel.
2. by SUBURBAN RAIL
From the Airport take the Suburban Rail Line (Black Line) and change at Doukissis Plakentias station.

From Doukissis Plakentias station, take the Blue Line (Line 3 - direction 'Agia Marina') and get off at Syntagma Station3.

From Syntagma Square you can either take the Metro or walk to Titania Hotel.
3. by BUS (map: http://www.oasa.gr/)
From the Airport take Bus Line X95 'Syntagma – Athens Airport Express'.

From Syntagma Square you can either take the Metro or walk to Titania Hotel.

You can also take a bus (most of them are passing by in front of the hotel, while some stop right in front of the hotel).
4. by TAXI ( Athens Airport Taxi ) Fare:
Day time (05:00-24:00) : 38 €
Night time (24:00-05:00) : 54 €
5. By Car (36 KM, 35-40 minutes)
Via Attiki Odos, route 6/Ε94, 31,6 klm, 35 min

Via Mesogeion Avenue, 20,8 klm, 34 min

Via Route 64, 26 klm, 34 min
The capital of Greece took its name from the goddess Athena, the goddess of wisdom and knowledge. This is where democracy was born. This is where that marvel of architecture, the Parthenon, was created. This is where art became inseparable from life, and this is where Pericles gave the funerary speech, that monument of the spoken word.
more Athens History...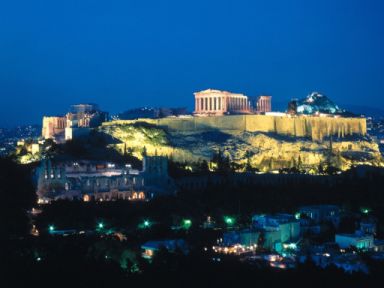 Athens is the symbol of freedom, art and democracy in the conscience of the civilized world. In Athens memory never fades. Wherever you stand, wherever you turn, the city's long and rich history will be alive in front of you. In the centre of town are two hills, the Acropolis with the monuments from the Age of Pericles, and Lycabettus with the picturesque chapel of Saint George. Athens today is a modern city, alive and on the go.
Athens Areas.
Athens once the capital of the ancient world and the centre of civilization today is a modern cosmopolitan capital bustling with life. It is crowned by the 2500 years old Parthenon proudly resting on the peak on the beautiful hill of Acropolis - the most celebrated antiquity and a noble relic of the Athens city's legacy. Athens has become an indisputable symbol of humanity and has been imprinted in everyone's conscience as the city of thought and philosophy, the centre of cultural development and artistic achievement.
more on Art & Culture ...
In the past, Athens represented a "necessary" pilgrimage for all scholars. Today this cosmopolitan centre welcomes millions of visitors annually, who flock its streets, restaurants, shops, resorts and beaches, in an attempt to take part in its history, admire its countless monuments, experience its vitality, bake in its sun, and enjoy its traditional hospitality. A mere wander around the city takes one across Byzantine churches, ultra-modern buildings, green parks, museums and archaeological sites.
see 12 attractions.
Athens is the ideal destination for a city break, with fine Mediterranean climate, plenty of sunshine and a fascinating multitude of things to do and places to visit. The old Plaka area with its maze of streets full of lively tavernas and bars by night, the traditional flea market at nearby Monastiraki and the change of the guard at the Tomb of the Unknown Soldier in Parliament Square, is a must for all visitors. Kolonaki Square with its smart fashionable boutiques and coffee shops, the Hill of Lycabettus for breathtaking views of the city and romantic sunsets, is a sensation. Athens is also a city famous for its culinary pleasures, offering everything from traditional Greek cuisine and entertainment at 'bouzouki tavernas', to gastronomic delights at elegant restaurants serving international cuisine in Glyfada and Pendeli to fresh seafood restaurants in Piraeus.
more on Athens Gastronomy ...
As the bright sun begins to set, the city's lifestyle switches to a unique nightlife rhythm. With its traditional taverns, with Greek dancers, and a cuisine that is made even more unique by the setting, whether one dines in deluxe restaurants, or to the sounds of modern night-clubs and traditional bouzouki-restaurants the city is alive and fun never stops till daylight.
more on Athens nightlife ...
Athens is well known for its vibrant nightlife. The city offers entertainment to suite all tastes; from fashionable discos, bars and clubs playing the latest sounds of pop and rock, to sophisticated classical concerts and opera at the Megaro Mousikis, to casino outings at the Mont Parnes casino.
Culture of Athens
There are few places in the world with so rich and diverse an artistic and cultural history as Greece. In terms of archaeology there are artefacts that are 200,000 years old, while architecturally Greece boasts Minoan and Dorian ruins dating back almost four millennia. Greece is also where drama originated, so there are plenty of ancient theatres to pick your way through:
Museums - Greece is bursting at the seams with museums. Almost every single city, town, village, historical site, settlement and hole in the hedge has an archaeological museum which details the archaeological and historical significance of its surroundings. New Acropolis Museum
Historical Sites - There is certainly no shortage of these in Greece. Every city has their own specialties, like the Acropolis and the Ancient Agora in Athens, the Oracle at Delphi, the Palace of the Grand Masters in Rhodes Town, and so on. There are far too many to list here. It is suggested you get hold of a tourist map from the Greek Tourist Organization (EOT) which sets out all the ancient, Byzantine and medieval sites throughout the country. But some of the major historical sites you should make a special effort to see are listed below:

The Acropolis, Athens.

The Ancient Agora, Athens.

The Byzantine monument of Nea Moni on Chios.

The Polycrates Wall and Eupalinos Tunnel at Pithagorio, Samos.

The Oracle at Delphi.

The Minoan palace city of Knossos, Crete.

The ruins of Gortyn, Crete.

Minoan ruined city at Phestos, Crete.

Arch of Galerius, Thessaloniki.

The White Tower, Thessaloniki.

Dafni Monastery, Greece's largest Byzantine monastery.

Meteora Monasteries, perched on mountain outcrops, in Kalabaka.
If you would like to book your visit to the Greek monuments and museums click here.